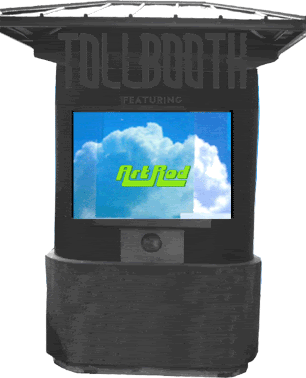 TACOMA ARTIST CLAIRE YUCKERT OPENS NEW EXHIBITION MOVEMENT
AT THE TOLLBOOTH GALLERY JUNE 25, 2006
Tacoma based artist and filmmaker Claire Yuckert opens new video and print exhibition at Tacomas Tollbooth Gallery. The exhibition, Movement incorporates time lapse images of Tacoma with an exploration of cloudscapes. This exhibition is on view at the Tollbooth June 25 August 13, 2006. The Tollbooth Gallery is located just north of the intersection at 11th and Broadway in downtown Tacoma, WA and runs 24 hours a day.
Claire Yuckert is a Tacoma native and a graduate of The Evergreen State College where she fell in love with the art of filmmaking. Movement is a series of time lapse images of Tacoma that was originally premiered last May at the Media Literacy Festival. The paper aspect of the installation consists of an assemblage of over one hundred photos of clouds taken in Tacoma since March of this year by the artist.
The Tollbooth is the worlds smallest gallery dedicated exclusively to video and paper based fine arts and is a project of ArtRod. The Tollbooth Gallery has garnered national attention as one of the most talked about projects of late, blurring the line between cutting-edge contemporary museum works and public art in a unique time-based format.
ArtRod is a 501(c)(3) non-profit organization established in 1958. ArtRods mission is to facilitate art exhibition in nontraditional public arenas. ArtRod has grown out of, and in response to, a specific need to bring contemporary art forms out of a solid, conventional museum setting and directly into the communitys path. In addition to the Tollbooth Gallery, ArtRod produces the quarterly magazine, Toby Room, the latest issue of which features interviews with each of the artists who exhibited during the first year of the Tollbooth Gallery.

Movement by Claire Yuckert is a video and print installation at the TOLLBOOTH GALLERY on view from June 25 August 13, 2006. The TOLLBOOTH is located just north of the intersection at 11th and Broadway in downtown Tacoma. The TOLLBOOTH is open to the public 24 hours a day and admission is free.